Forget fairy lights and tinsel. Judging by the launch of Paco Rabanne's collaboration with H&M, it is party guests in paillette-disc miniskirts, chainmail dresses and mesh tops who hope to shine brightest this festive season.
Hundreds of people queued, many from the early hours of the morning, outside H&M's store on Regent Street in London on Thursday for the latest much-anticipated collaboration between the high street brand and high fashion.
Despite the collection launching online at the same time that shop doors were due to open at 9am, many braved heavy showers and overnight temperatures of 7C. At 7am, staff handed out free coffee, chocolates and umbrellas to those without.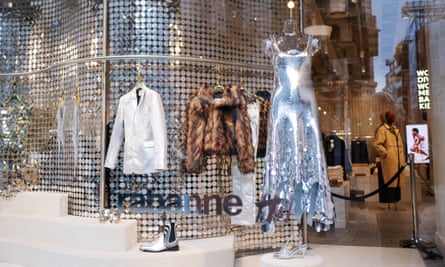 At the front of the queue were Jerry Oki, 41, and her 12-year-old daughter, Amy. "I have come to every single H&M designer launch since it started in 2004," Oki said. "We arrived at 6pm on Wednesday. The next person didn't arrive until 4am but I didn't want to risk that."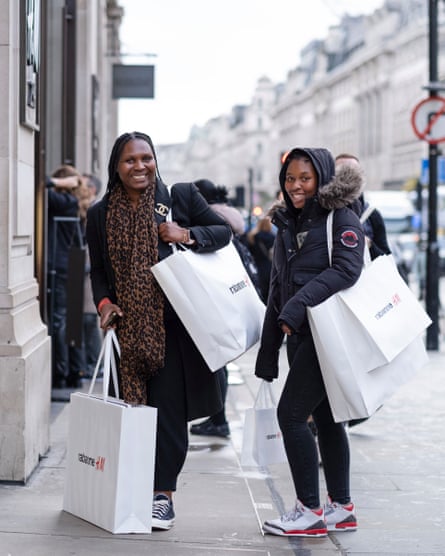 Security oversaw the line after scuffles at previous launches – in 2015, police were called to maintain order at the Balmain collaboration when a group of men tried to storm the queue.
But this time, aside from some initial jostling over a rail of £64.99 gold sequined crop tops, the atmosphere was generally calm. At 8am, shoppers were handed colour-coded wristbands with allotted 15-minute slots. Each person was limited to buying one piece from each style.
Oki bought 11 items, including a military-style jacket and fuzzy faux fur coat, spending her "limit of nearly £2,000". Dami Ikomi, a 33-year-old project manager from London, spent £2,195. Queuing from 4am, she had made a list of pieces in order of priority. "I got nearly all of them. They are perfect for parties."
The Spanish fashion designer Paco Rabanne, who died in February aged 88, found notoriety during the 60s with his futuristic and space-age designs. Using plastics and metals, he pushed traditional fashion design boundaries. Coco Chanel once said of him: ''He's not a couturier. He's a metal worker."
The house has been helmed by Julien Dossena since 2014. Fans of the brand were pleased to see that many of the pieces in the H&M collaboration referenced the Rabanne archive, including chainmail headpieces and shoulder bags.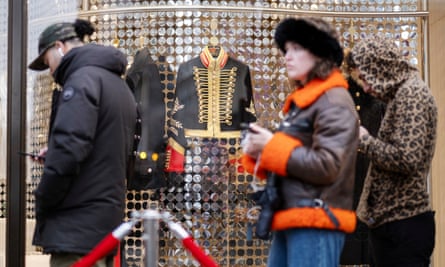 "There are shades of the 60s in this collection," said 60-year-old Alison Cork, who joined the queue at 4.30am. "It takes me back to Twiggy and her short minidresses."
While prices for Paco Rabanne's mainline collection can run into thousands, the most expensive piece in its collaboration with the fast-fashion retailer was a silver aluminium batwing dress for £549.99.
Rhinestone-encrusted tights were one of the cheapest items, at £37.99. In high demand on the shop floor were a gold disc minidress for £279.99, a silver flared dress for £279.99 and a floor-skimming gold skirt for £189.99.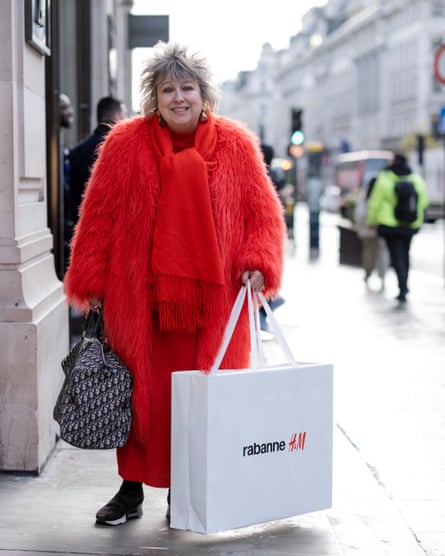 "These are high prices for H&M but there are a lot more people willing to pay a little bit more for something that has a designer name attached to it," said Andrea Cutts, a fashion worker in her 50s from London who spent just under £500 on two pieces.
Much of the collection was composed of a blend of virgin and recycled materials including polyester, a synthetic fibre derived from crude oil. Some described the items as "forever pieces," suggesting longevity, a trait not usually associated with fast fashion. However, others said they were surprised that some of the higher-priced items felt low-quality and questioned their durability.
There was disappointment that some of the items were already appearing on eBay, many at triple the original retail price.
"You can tell which ones are shopping just to resell," said Cutts, who also queued for the Marni collaboration in 2012. "I have always wanted to own a piece of Paco Rabanne but could never afford it. I'm going to wear the gold skirt to work. I don't believe in saving things for special occasions."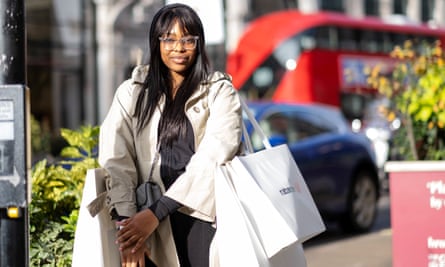 Ariadne Koshoni, a 28-year-old student, was a later arrival in the queue. She said: "I got here at 7.30am and have spent £1,500. The fact Paco Rabanne died earlier this year made me want it even more."
Micky Chua, a 35-year-old IT worker, said: "I took the day off work. I thought the queue would be much longer. I spent £370 on two items."
Rayco Leon, a 43-year-old clinical pharmacist and Belen Leon, a 30-year-old radiographer, had also been queuing since before dawn.
They said: "We arrived at 5.15am. We spent £760 between us. We are a little disappointed as a lot of pieces that we wanted were gone."