(1)Can Gold pyramid be used to trade EURUSD and other fx pairs?
Answer: Yes, of course you can trade FX pairs other than GOLD and SILVER. Below this blog are available setfiles for AUDUSD, EURUSD, GBPUSD, USDCHF, USDJPY and USDCAD. Please backtest first because the Max DD is still quite large compared to GOLD and Silver.
(2) How can this EA prevent a margin call?
Answer: EA has stoploss, all setfiles are already set to stoploss. In addition, EA is also equipped with Lock by Drawdown / Money / Pips. If that doesn't work, you can also use cutloss by money and determine how much money you will bet before the cutloss is made.
(3) How does it determine the trend?
Answer: GOLD Pyramid uses the GOLD indicator to determine the trend, there are 3 trends used, RARE, FREQUENT, and CONTINUOUS.
+ Rare, as the name suggests, entry positions are rather rare.
+ Frequent, entry positions have started to appear frequently.
+ Continuous, position entry appears almost every time. Divided into 1,2,3 based on the difference in determining the entry point
(4) If the EA is in a trade and the trend changes, how will it manage the open trades in the wrong direction?
Answer: If the trend changes, the bot will try to averaging if there is a signal, while doing a partial close until the stoploss limit is reached, then open trade will be closed because hit a stop loss.
(5) If I rent GOLD Pyramid, can I trade on a demo account with the EA for one month?
Answer: Thank you for renting the GOLD Pyramid, of course you can trade using the demo account.
(6) Difference between Real Tick and 1 minute ohlc modeling
Answer:
Real tick fetches price every tick.
1 minute ohlc modeling fetches prices only at second : 0,20,40, and 59.
1 minute OHLC does not mean Open, High, Low and Close prices on a 1 minute timeframe, the picture below can provide a better explanation: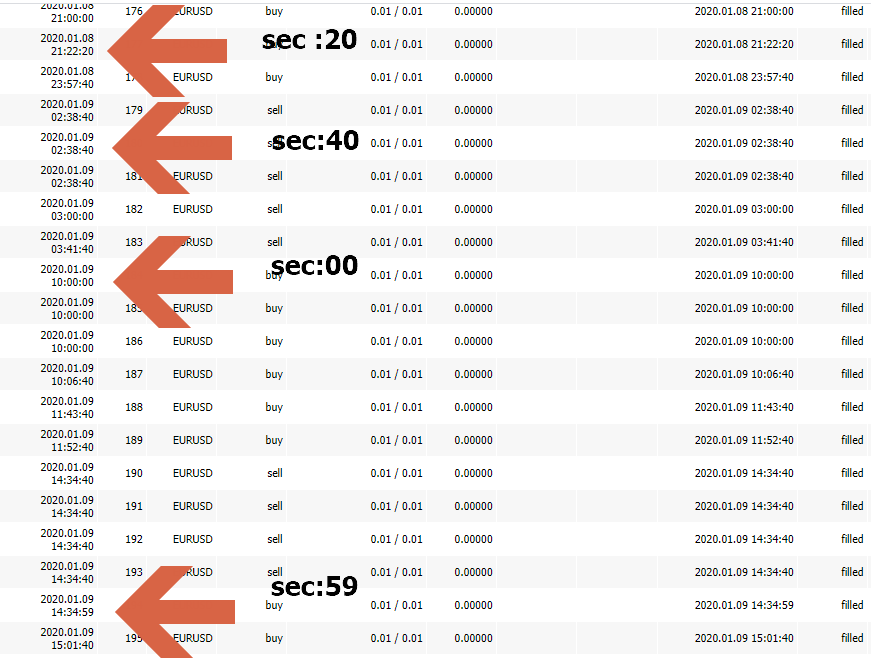 With this knowledge, I created a code to make the bot fetch prices at anchor points 0,20,40, and 59 with a deviation of 3 seconds , but in real trade the deviation from the anchor point is still depends on the speed of the internet vps and the broker's servers.